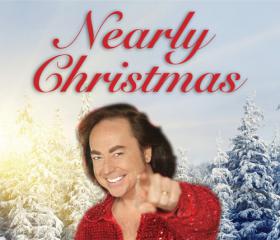 Rock Island Entertainment presents Nearly Neil Diamond, featuring Bobby Bruce and the Solitary Band!  Arriving in Sidney just in time for Christmas, it will be a magical  evening of song and music that will move you to sing and clap along to all of his greatest hits!!
Bobby Bruce grew up on stage; appearing in film and television as a child, in musical theatre and rock revues in his youth, he has invested more than a quarter of a century honing his triple-threat set of entertainment skills. For over twenty years Bobby has been astounding appreciative audiences around the globe with his dynamic and passionate musical tribute to Neil Diamond.
"Neil Diamond had better be wary he ever comes to town. Bobby Bruce is a hard act to follow. The Canadian impersonator not only mimics the great Neil Diamond to a tee but also implants some of his own pizzazz and style, a combination so clever and disarming that it brought the house down."
Samela Harris, Adelaide Advertiser, Australia 1996
On his first national tour of Australia, the press dubbed him "Nearly Neil" and the name stuck. His travels stretch from Kota Kinabalu on the island of Borneo to the Cayman Islands; aboard luxury liners at sea, on national tours stretching tens of thousands of miles, to audiences as large as 30,000 - Bobby continues to impress.
Bobby's tribute to Neil Diamond was born of a chance discovery by an "Elvis" at karaoke contest in Toronto, Ontario. Debuting in 1994 in a multi-tribute show, within a year news had travelled to Las Vegas and Bobby was picked up by Legends in Concert and began a ten-month tour of the US with the largest impersonation company in the world. Joining his first tour with Legends of Rock – Bobby played 60 shows in 10 weeks throughout Australia. Directly following was his maiden visit to Malaysia for a royal performance for the King and Queen, successfully spawning more than a dozen returns over the next few years to play the countries most exclusive private clubs and elite events.
Using his international touring as a launch pad, Bobby broke away from the "Legends" type shows and formed Nearly Neil and the Solitary Band in Vancouver of 1997 quickly becoming a staple in the Canadian market. Starring in the million-dollar feature length documentary MOCKSTARS, released to television in 2002, Bobby's star continued to climb.
Following a national tour of New Zealand, Nearly Neil and the Solitary Band took up what would become a decade-long residence at the brand-new River Rock Casino in Vancouver in 2004. In 2006, Bobby was very pleased to receive the "Entertainer of the Year Award" from the Pacific National Exhibition.
Returning to Australia in 2008, a new partnership was forged with DownUnder Promotions and the Australian Solitary Band was formed leading to six nation-wide tours of Australia in the next four years. Adding fifty shows throughout twenty-two states in America for Live on Stage in 2009/10 kept Bobby very busy.
Nearly Neil and the Solitary Band were thrilled to launch their first tour to Europe - touring Belgium and Holland in 2011 with tours of the Netherlands and Belgium in 2012 and 2013. In the same years, Bobby's national Australian tours were recognized with back to back nominations for ACE Awards in the International Touring Artist category.
Launching his newly expanded Beautiful Noise Tour, adding a string section to the full rock band, drove 6 months of Australian touring in 2014/2015 summitting at SKYCITY Auckland.
Classically Diamond; Bobby's tender retelling of Diamond's classics with Piano and String Quartet accompaniment debuted in 2016. This year, continuing to tour at home and abroad with his 15th tour of Australia and his most recent cruise appearance onboard the six-star Silver Whisper, Nearly Neil and the Solitary Band have entertained at casinos, wineries, festivals and galas.
Always happy to be playing in his backyard, (he and his wife of 27 years, Leanne, live on Gambier Island and his mother, older brother and sister all live on Vancouver Island) Bobby is looking forward to returning to the Mary Winspear Theatre in Sidney on December 16th! It's Nearly Christmas reminds us through Diamond's greatest hits of family and friendship that make the Holiday Season so special.