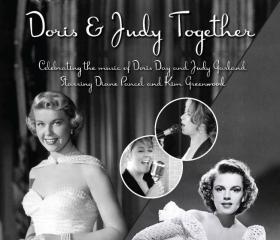 Mary Winspear Centre Presents 
Doris and Judy Together
Sunday, August 20 - 2:00PM
At 2pm on August 20th, at the Charlie White Theatre in Sidney BC, Diane Pancel and Kim Greenwood will perform Doris and Judy Together, a double tribute to musical icons Doris Day and Judy Garland, featuring Ashley Wey on Piano, Louis Rudner on Bass, Barrie Sorensen on Saxophone and Jon Miller on Drums. Back by popular demand, this performance combines the best of the duo's sold out 2022 shows, 'A Sentimental Journey' and 'Over the Rainbow', celebrating the 100th birthday of Doris and Judy.
Showcasing a mix of energetic Broadway duets, soulful ballads, enchanting harmonies, and powerful solo performances, Doris and Judy Together will have you strolling down memory lane, reminiscing to favourites such as "Everybody Loves a Lover", "Que sera, sera", "The Boy Next Door", and "The Man That Got Away".
Multi-award-winning recording artist and international cabaret star, Diane Pancel, will be returning to her hometown of Sidney BC this summer following a seven-week cabaret tour in Switzerland. Best known for her LA-based Ladies of Hollywood, Ladies of Song, and American Songbook cabaret hits, and well loved for her ability to connect with the audience, Diane draws inspiration from her Portuguese/Hungarian background giving her music a strong sense of international soul. An extremely versatile performer, Diane has performed alongside artists such as David Foster, Nelly Furtado, Leanne Rimes, and Matt Dusk. She has been featured multiple times on major television networks, has performed across the U.S. at major sporting events for the L.A. Kings, L.A. Galaxy, Orlando Magic, Chicago Bulls, and the US Women's national Soccer team, and has recently been nominated for two International Portuguese Music Awards – best pop performance and song of the year. dianepancelmusic.com
Kim Greenwood is a multi-faceted artist whose work spans genres including jazz, pop, musical theatre, and classical opera. An actor at heart, her expressiveness comes shining through in her performances, with her warm, smooth vocals evoking images of the biggest stars from bygone eras. Classically trained, Kim graduated from the Royal Conservatory of Music, then went on to study for several years under renowned opera singer Selena James. Now a highly sought after vocal coach herself, an accomplished producer, musical director, international performer, and recording artist with recently released material on several major platforms, Kim Greenwood is a talent not to be missed. kimgreenwood.com