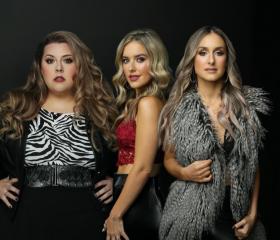 Seaside Sessions Presents
THE HEELS
Wednesday, March 9, 7:30 PM
There's a sound that isn't heard enough on Country radio—the sound of organic, three-part female harmonies, offering stories that speak the language of modern women everywhere. Add in some good-natured brash and sassy attitude and you've got Canada's pop-country queens, The Heels.
That title is now undisputed with the release of the trio's sophomore album I Am, the follow-up to their warmly received 2018 debut, Love, Heels. Although Bobbi Smith, Brittni Dominelli and Kyla Rawlins have spent much of these past three years winning over audiences with a dynamic live show that showcases each of their distinctive voices and personalities, they also found time to write over 100 songs during several trips to Nashville—and at their home base in Vancouver—from which I Am's 16 tracks were chosen.
Even pandemic restrictions couldn't slow them down; most of the recording was completed by producer Anthony Fiddler at his Fiddler Productions Vancouver studio, with The Heels's trusty band contributing their parts remotely. Given such unexpected circumstances, the double meaning of the group's name took on sharper focus as the process went on.
"Being in a band has been so healing in itself," Brittni says. "Learning the ins and outs of the music industry and everything it takes physically, mentally, emotionally and spiritually to be a part of it has given our goals and dreams a whole new meaning and healed parts of me I didn't even know existed. Since we released our first album, we've learned so many new things about how to work as a team, and how to share space in all ways with each other on the road. It's the most vulnerable and valuable experience I could have imagined and I'm so grateful every day."
That all shines through in the songs on I Am, perhaps especially on the title track, which was actually conceived in the immediate aftermath of the tragic 2017 Las Vegas country music festival shooting. However, the song's message of hope and recovery seemed even more appropriate in 2020, prompting The Heels to make "I Am" the new album's centrepiece, with the aim to raise a listener's "love frequency" to the highest level, and create a ripple effect with those vibrations.
Other themes of empowerment are shared on the standout tracks "High Heels On," "Fools Gold" and the playfully sexy "Hush Money," while the ups and downs of love are explored on "Symptoms," "Happy After You," and "Fixer Upper." As Bobbi explains, "We like to be bold and outspoken, and for this album it was important to us that we share more love songs of all tempos and feels. We recognize each other's inner child; we know what it's like to want the same dreams. This is a musical sisterhood. We came together all in need of some self-care, and harmonies eventually healed us."
The Heels's story began at a North Vancouver café co-owned by Kyla, and where Brittni worked behind the counter. Bobbi was a regular customer, and the three soon decided it would be more rewarding artistically and emotionally to join forces rather than pursue individual solo careers. Momentum steadily built from there with their debut single "Come Around" hitting radio in 2017 and performances at the Calgary Stampede and the Sunfest Country Music Festival further raising their profile in western Canada. It all propelled Love, Heels to garner six B.C. Country Music Award nominations in 2018, with an additional slew of nominations coming the following year.
But rather than coast on that success, The Heels took it as an opportunity to expand their sound by incorporating influences that ranged from classic country, gospel and Motown, through to powerful contemporary female artists such as Sheryl Crow, Carrie Underwood and Whitney Houston. Add to that a growing attention to detail in the studio, and the end result of I Am is an album that, although it may be categorized as country, displays a unique musical vision that transcends the genre.
As Kyla says, "I am inspired by people and music that make me feel good, and I want to do the same for others. I need to feel that I am getting better, stronger, healthier, happier and more vivacious day by day, and that's what I get from being in this incredible group. Every morning I wake up thinking, 'What are we going to create or accomplish today?' or 'Who are we going to inspire today?' Being in The Heels makes me truly feel like I won the life lottery."
Bobbi, Brittni and Kyla still get a kick whenever someone assumes they're sisters. They know it's not just because of their seamless "family blend" harmony, but because of the obvious personal chemistry they share. And when that chemistry comes down to spreading positive energy, as they do unabashedly with I Am, there is just no limit to how high The Heels will lift us.
_____________________
Filming Notice: please be advised that your presence as a member of the audience during the filming/taping constitutes your consent to the possibility of your voice and likeness being used, without compensation, in the unlimited distribution, advertising, promotion, exhibition and exploitation of the program in any and all media by any method or device known or hereafter devised, and you release The Mary Winspear Centre from any liability in connection with such usage.
Proof of second vaccine required for anyone over the age of 12, along with government issued ID for those 19+.