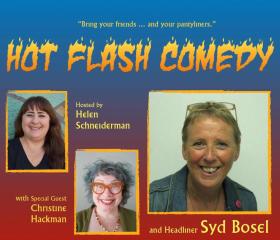 Coultish Management Presents 
Hot Flash Comedy
Thursday, March 9 - 7:00 PM
Doors open at 6 pm. enjoy a cocktail, live music and a small marketplace!
Celebrate International Women's Day...bring your friends....and your panty liners!
Your headliner, Syd Bosel 
Syd Bosel is a stand-up comedian and comedic storyteller.
Syd Bosel spills your life out onto the stage as she shares her tales of "adult" children, surviving breast cancer, menopause and other glories of nature.
Syd did her comedy training, and cut her comedy teeth in Vancouver, BC and recently moved to Comox, BC.
Syd placed first, and was voted Fan Favourite in the 2018, "BC'S Funniest New Female Comic" competition.
She placed 2nd (out of 65) comics, in the "Funniest Person with a Day Job" Competition.
She is a regular on the "Jest Ladies" Troupe
Has toured with "I am Woman Hear Me Laff"
Can be heard on Spotify on the Just for Laughs comedy album, "Poor Man's Hummus"
Syd's favourite review; "That older lady was really funny"
Special Guest, Christine Hackman 
Christine Hackman has been inflicting herself on audiences in different capacities for many years, with her latest incarnation taking on stand-up. Christine share adventures from her own unique career in the arts, moving thoughout the world with a sense of wonder, and her life as a dedicated pogonophile. After relentlessly competing for 3 years, Christine is 2022's "BC's Funniest New Female Comic" and Fan Favourite.
Christine's favourite review: "You were really good tonight, almost as good as Syd or Helen."
Introducing, Victoria comic, Lucia Ribeiro
Lucia arrived at comedy via sketch improv at Victoria Academy of Dramatic Arts and then taking a comedy class with Kirsten van Ritzen. She has appeared at different venues in Victoria, delivering quippy zingers and quirky observations about her life. A Yuk Yuk's Yuk Off 2016 finalist.
Lucia's favourite Review: It's okay. This one's good, too.
Hosted by, Helen Schneiderman
Helen got into stand-up comedy a few years ago as a way to get off her couch. Helen's comedy draws from her varied life experiences and trips around the globe. She's not afraid to share — the good, the bad and the ugly — and audiences love her sincere and relatable style. Helen has performed all across the lower mainland and Vancouver Island. She was in CBC's 2019 "NextUp Top 100"; won her preliminary round of the "2019 Yuk Off" contest; came second in the 2019 "BC's Funniest New Female Comic" contest; and was the opening comic on the 2020 "I Am Woman Hear Me Laff" tour.
Helen's favourite review: "Loved the beautiful one with the pretty accent"