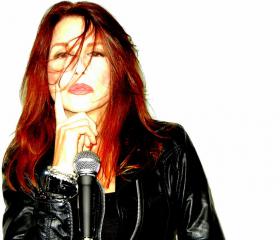 To sum up Lee Aaron's career in one paragraph is near impossible. This legendary rock diva started out singing jazz and Broadway standards in musical theatre in the Toronto suburbs, hanging out in music class after school, practicing and picking the brains of her instructors. By 15 she had formed a rock band, singing, playing keyboards and sax, and began playing all-ages shows.
While still in her teens, she wrote and recorded her debut, 1982's The Lee Aaron Project. Featuring some of Canada's most notable talent at the time (Triumph/Moxy) the LP was released on Polygram in Europe and garnered a feature in Britain's Kerrang! magazine. That was followed with an appearance at 1983's Reading Festival, where she blew away fans and critics alike with her powerhouse vocals and vibrant stage energy.
In 1984 she released Metal Queen. The album's title track, a hard driving anthem about female empowerment, catapulted Aaron to iconic status in the rock world.
When famed producer Bob Ezrin (Pink Floyd, Alice Cooper) heard Aaron sing (he was recording in the adjacent studio) he was impressed enough to step in to produce her next release. Call of The Wild garnered solid chart success in Canada and sold over 100,000 copies in Europe in just 6 weeks. The single "Barely Holdin' On" resonated strongly with audiences and before long Aaron was topping European music polls and appearing on dozens of magazine covers including Sounds, Melody Maker and even TV Guide.
Relentless touring and chart-toppers like "Only Human", "Whatcha Do To My Body", "Hands On" and "Some Girls Do" resulted in multi-platinum sales in her home country and continued international success through the '80s and '90s.
Chart Magazine proclaimed Bodyrock (1989) one of the 20 most influential Canadian albums of the '80s, with Avril Lavigne, Alanis Morrisette and Shania Twain all "under Aaron's influence." MuchMusic's Listed has consistently rated her in the Top Female Rockers Of All Time category.
In addition to the solid catalogue of rock releases, Aaron has ventured into other genres throughout her career, performing jazz, blues and even opera, solidifying her credibility as one of the most respected and versatile vocalists and songwriters around.
Concurrent with 2004's Beautiful Things (Billboard claimed it her best yet), Aaron toured up until a month before her first child was born.
For the past decade, outside of a handful of select appearances, she has been out of the spotlight, spending much of her time focussed on her young family. But music was never far from her mind, as she continued to noodle around in her home recording studio. She re-entered the rock 'n' roll scene a few short years ago, playing a number of festival shows and realized there was still a huge appetite for her brand of sophisticated, melodic rock music and impressive back catalogue.
"I always knew I was going to record again, I just didn't know when, and I didn't put that pressure on myself. Raising children takes an incredible amount of creative energy and my priority was these two amazing little people in my life. They're more independent now, so some time and space has opened up," Aaron said, adding that the kids are also becoming more interested in music themselves. "I really enjoy a lot of the pop stuff they listen to but it was also a motivation for me to get them listening to some of the music that resonated with me as a youth." At 14, Aaron discovered Led Zeppelin, the Strawbs, Fleetwood Mac, Elton John, Heart, The Runaways and David Bowie (amongst others) in a pile of discarded vinyl from a college radio station. "I started revisiting this stuff with my kids and it took me back to a place of feeling so inspired by music again. I went, yeah … it's time."
Her new album, Fire and Gasoline, sees a resurgent, revitalized and energized Lee Aaron re-remerging into the rock 'n' roll world with an album that is sophisticated, thought provoking, sublimely entertaining and a whole lot of rockin' fun.
It leaves no doubt that Canada's rock queen is back – better than ever.