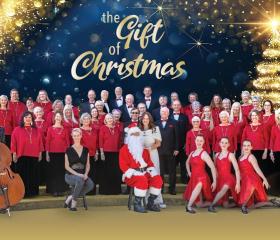 Fri, Dec 2, 7:30 pm
to
Sun, Dec 4, 9:30 pm
The Peninsula Singers Present:
"The Gift of Christmas"
Who doesn't like to give and receive presents? Afterall, gift giving is synonymous with Christmas. However, some of the best gifts cannot be bought online, wrapped, and slipped under the tree. These last few years have shown many of us that spending time with those we care about is the very essence of Christmas, and is the inspiration for this years' show, The Gift of Christmas.
Artistic Director Lena Palermo has carefully selected music from the past and present, including traditional ensembles, classic ballads, pop rock hits, jazz, R&B classics, and contemporary Christmas music hits that celebrate the spirit of giving.
You will experience the powerful harmonies of a 63 mixed voice choir, as well as solos, and duets. We will entertain you with singing, dancing, sing-a-longs, humour, and so much more. Its a fast-paced show that will entertain the whole family.  Our professional show band includes accompanist, Christie Norman; percussionist, Terry Erskine; bassist Jennifer Bennett and violinist Hollas Longton.
This year we are pleased to feature the very impressive and accomplished Young Artists, soprano, Olivia Das and baritone, Brendan Dawes. In addition, Victoria's well known STAGES Dance Company returns with spectacular choreographed dance performances to well known Christmas songs.
It all comes together with narration and light-hearted humour from our distinguished Master of Ceremonies, Jim Kingham.
The Peninsula Singers would like to share with you, your family and friends, The Gift of Christmas, and our gift of music.
Supporting the Saanich Peninsula Hospital & HealthCare Foundation's Music Therapy Program and Saanich Peninsula Lions Food Bank.
The Gift of Christmas
Fri, December 2 @ 7:30pm
Sat, December 3 @ 7:30pm
Sun, December 4 @ 2pm
Mary Winspear Centre
2243 Beacon Ave., Sidney
Tickets: $35 adults/$18 children
Box Office: 250-656-0275
www.marywinspear.ca