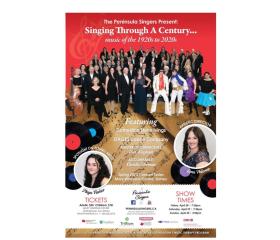 The Peninsula Singers Present:
"Singing Through a Century…music from the 1920s to the 2020s."
Songs from the past can awaken powerful emotions and memories. A particular piece of music can even transport us back to our youth. So, what is the soundtrack of your generation? Whatever it is, "Singing through a Century…" has something from every decade.
Artistic Director Lena Palermo has curated music from the 1920s to the 2020s including Ragtime, Big Band, Swing, Rock n Roll, Soul, Hip Hop, Rap, Dance, Country, and Pop Rock. You will hear music from some of your favourite artists!
Experience the powerful harmonies of a 61 mixed voice choir, as well as solos and duets. We will entertain you with singing, dancing, sing-a-longs, humour, and so much more. It is a fast-paced show that will entertain the whole family.  Our professional show band includes accompanist, Christie Norman; percussionist, Terry Erskine; and bassist Jennifer Bennett.
This show we are pleased to feature the very impressive and accomplished Young Artist, soprano, Maya Fischer singing selected songs by Patsy Cline and Lady Gaga. In addition, Victoria's well known STAGES Dance Company returns with spectacular choreographed dance performances to mega hits by Queen.
The show is seamlessly tied together with narration and light-hearted humour from our distinguished Master of Ceremonies, Jim Kingham and our special guest, well known Comedian, Steve Ivings.  
Whether it's The Beatles, Elvis, ABBA, Aretha Franklin, Katy Perry, or hits from artists that flew off the charts, this show and the music will take you back to your generation's coming of age.
Supporting the Saanich Peninsula Hospital & HealthCare Foundation's Music Therapy Program and Saanich Peninsula Lions Food Bank.
Fri, April 28 @ 7:30pm
Sat, April 29 @ 7:30pm
Sun, April 30 @ 2pm
Mary Winspear Centre
2243 Beacon Ave., Sidney
Tickets: $35 adults/$18 children
Box Office: 250-656-0275
www.marywinspear.ca