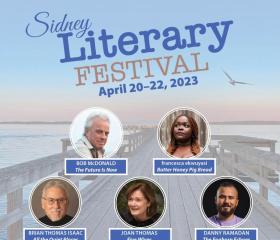 Thu, Apr 20, 7:00 pm
to
Sat, Apr 22, 10:00 pm
2023 Festival at a Glance
Venue: Mary Winspear Centre
Thursday, April 20
7 pm: Bob McDonald, celebrated author and CBC host of Quirks and Quarks, opens the festival with a discussion of his new book, The Future is Now: Solving the Climate Crisis with Today's Technologies. (Charlie White Theatre) – Tickets $25 (for youth under 18 –  $15)
Friday, April 21
7 pm: Wine, Words and Music – A panel discussion moderated by Jack Knox with Bruce Kirkby, Rachel Rose, Frances Peck, Kamal Al-Solaylee, and Dede Crane – Music provided by Brad Prevedoros – Tickets $35, including appetizers and one glass of wine or other beverage. (Room 2)
Saturday, April 22
9:15 am – 10:30 am: Reading with Rachel Rose, francesca ekwuyasi, Frances Peck, and Danielle Geller – Tickets $20. (Room 2)
11:00 am – 12:15 pm: Reading with Joan Thomas, Bruce Kirkby, Brian Thomas Isaac, and Danny Ramadan – Tickets $20. (Room 2)
1:30 pm – 2:45 pm: A Panel Discussion: Choosing Your Path moderated by Barbara Pelman with Michael Harris, Annabel Lyon, Kamal Al-Soyaylee, and Dede Crane – Tickets $20. (Room 2)
7:00 pm Authors in Conversation: An Evening with Celebrated Canadian Writers discussing "The Worlds We Create" – A panel discussion moderated by Gregor Craigie with francesca ekwuyasi, Michael Harris, Brian Thomas Isaac, Annabelle Lyon, Danny Ramadan, and Joan Thomas – Tickets $30. (Charlie White Theatre)
Saturday Writing Workshops
9:30 am – 11:30 am: Writing Narrative Scenes with Caroline Adderson (limited to 20 participants). Tickets $60. (Room 4)
Show, don't tell is one of the most misleading axioms of fiction writing.  In fact, there is as much to tell in a story as there is to show; the key is to know when to do each, and how.  Through instruction and writing exercises, this workshop will explain the four types of prose used in fiction with a special focus on the "showing" mode — the narrative scene.
1:30 pm – 3:30 pm: Exploring the Poem as Memoir with Yvonne Blomer (limited to 20 participants). Tickets $60. (Room 4)
It is hard to know when reading a poem if the elements of experience or truth in fact happened to the poet themselves, or if they are imagining, extrapolating, taking an event from the news, or altering a real experience. The poets who are considered "confessional" may only be confessing to certain elements of their lives, similar to how social media works, not all is shared or known. In this class, we will delve into poetry as memoir but not let the truth get in the way of the poem. The act of writing about one's life is a creative act, and so the piece of art is a single take on the life event. We will read P.K. Page, Sylvia Plath, Ocean Vuong, Galway Kinnell, and others to explore memoir in poetry and the notion of the narrative "I" and the speaker in the poem.