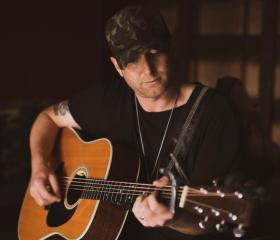 Mary Winspear Centre Presents
TIM HICKS "Campfire Troubadour Tour 2023"
Special Guest Teigen Gayse.
Monday, October 23 - 7:30 PM
With over 140 million catalogue streams to date, multi-platinum, five time JUNO Award nominee Tim Hicks reflects on the decade since his label debut, with the release of "Talk to Time" to country radio. The title track of his recent album Talk To Time, Hicks unveils a beautifully nostalgic music video, which premiered Feb. 21, 2023 across iHeartRadio platforms. The new release comes just in time to celebrate his Top 10 single "Stompin' Ground" receiving Platinum status in Canada.
"Did you ever wish you could slow down time? I think about it often. As a father of two, and a musician 10 years into his career, this song means a lot to me, and really hits home," Hicks shares. "The video turned out awesome too! We shot it on a REALLY cold and windy day underneath the Burlington Skyway. Somehow, through the magic of film making, you can't even tell I was frozen to the bone! "
The release of "Talk To Time" follows back to back Top 10 singles at radio, and the announcement of summer festival dates across the country including Boots & Hearts, Dauphin's Country Fest, Country on the Bay, and Country Rocks the Farm. Hicks will also be headlining the half-time show at the Toronto Rock's Country Night on March 4.
Tim Hicks continues to lead the way with his sure-footed everyman approach - expanding the song writing and style that has helped define today's country music. Delivering track after track with unparalleled quality and consistency, Hicks' ascent as an elite chart-topping act since making his country label debut in 2013 is undeniable. His vast catalogue of highly praised releases including Throw Down, 5:01, 5:01+, Shake These Walls, New Tattoo, Wreck This and Campfire Troubadour has earned the five-time JUNO Award nominee and CCMA Award winner a double Platinum selling single, four Platinum selling singles, nine Gold singles, one Gold album and eighteen Top 10 radio hits (including the #1 singles "No Truck Song" and "What A Song Should Do"), in addition to multiple sold-out headlining dates and back-to-back national tours.
To honour the ten year anniversary of his debut album Throw Down, Hicks will unveil a special anniversary edition vinyl in partnership with Record Store Day on April 22. With more anniversary celebrations to unfold and tour dates to be announced, be sure to follow @timhicksmusic (TikTok/IG/TW) / @timhicksofficial (FB) for the latest updates.