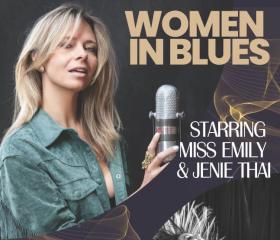 Gee Dan Productions and Mary Winspear Centre Presents 
Women in Blues starring Miss Emily and Jenie Thai 
Thursday, October 12 at 7:30PM 
Defined By Love –Miss Emily
On October 12, the Charlie White Theatre audience will be treated to the release of Miss Emily's third studio album, "Defined By Love." In her upcoming Sidney appearance, Miss Emily – a 2022 Juno nominee - will be joined on stage by a backing band that features some of Canada's most sought-after blues & soul musicians.
"Defined By Love" is a warts-and-all diary of lost relationships and found humanity that was produced by Juno award winner Steve Marriner. It features meditations on deception, resilience, pain and strength with co-writing by Rob Baker (The Tragically Hip) and the instrumental genius of Jimmy Bowskill (Blue Rodeo, The Sheepdogs); all grounded in a horn-drenched foundation of soulful blues and unparalleled vocals.
Since 2019, Miss Emily has brought the house down at venues across Canada, the US, the United Kingdom and Europe. Now she's coming to Sidney with a show that will include the new album start-to-finish as well as fan favourites and a few special surprises. In a year which featured a Juno nomination, a second Maple Blues Female Vocalist of the Year award and an International Songwriting award – this is a not-to-be-missed event.
Jenie Thai
When you meet her, Jenie Thai is composed, pleasant, amiable, friendly, and — she won't like the word but you have to live with it — sweet. She has an open face, long hair, a ready smile and an easy laugh.
And she is also tough, and gritty, and plays barrelhouse piano steeped in the blues — and if that wasn't enough to get your head around, she also writes and sings tough and tender ballads, direct from her heart to yours.
There's a new album, Night on Fire, with a sold out show at Toronto's Hugh's Room and — while she now calls Toronto home — she lives on the road, and there's dust on her shoes, love in her heart, and a whole lot of music in her soul.