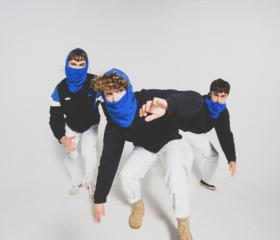 From September 13-October 23 proof of first vaccine required for anyone over the age of 12, along with government issued ID for those 19+.
Seaside Sessions Presents
daysormay
Thursday, October 21, 7:30 PM
Nine years ago, three six-graders ignored all the other trappings of ascendant teenagers and dedicated themselves fully and feverishly to making music. Growing up in the serene town of Vernon, BC, daysormay not only mastered their songwriting and playing skills, but they also became production wunderkinds with the release of their EP, Talk Peace To A Wolf. Now 21 years old, in Vancouver, with a full album in their arsenal, the members of daysormay (the English phonetic of the French "désormais" meaning "from now on") have the wind at their backs with no intentions of slowing down. With influences like Phoenix, Glass Animals and Portugal. The Man., singer Aidan Andrews and twin brothers/rhythm section Carson and Nolan Bassett are carving out a unique space in modern alternative music.
In their new album, Just Existing, audiences will hear how the band has continued to challenge their craft by incorporating pulsing drums, enchanting synths and guitars, unforgettable melodies and sharp-witted lyrics, demonstrating how there are no limits to their sound. Swerving between studio and at-home sessions, this musical collective have been working alongside the likes of Steve Bays (Diplo, Hot Hot Heat, Fitz and The Tantrums). Just Existing is a collection of snapshots from their lives, the growth, trials and tribulations and raw journal excerpts from their life, as they check in with each other after a turbulent few years. In true daysormay style, their authenticity sees them making music not only they love, but as a scrapbook of sounds and influences, with prominent drums, euphoric and emotional melodies and a whirlpool of dynamics brushed in their vibrancy and artistic passion.
daysormay attack each new live show with relentless energy of a band on the verge. Their history of stunning audiences is extensive, from at home in Canada, to headline shows in Europe, including The Reeperbahn Festival (Germany), The Great Escape (England), Bumbershoot (Seattle), as well as support slots on stages with Cold War Kids, Tessa Violet, Peach Pit, and Walk Off The Earth.
Filming Notice: please be advised that your presence as a member of the audience during the filming/taping constitutes your consent to the possibility of your voice and likeness being used, without compensation, in the unlimited distribution, advertising, promotion, exhibition and exploitation of the program in any and all media by any method or device known or hereafter devised, and you release The Mary Winspear Centre from any liability in connection with such usage.
________________________
Please note: all exchanges, gifting, or reselling of tickets must be done through the Mary Winspear Centre box office in order for us to conduct pre-screening, seat assignment, and contact tracing protocols.
If you are feeling unwell, have any COVID-19 symptoms, have been asked to isolate, or have been around someone who has been asked to isolate, tested positive for COVID-19 in the past 14 days, or been in contact with someone who has tested positive for COVID-19 in the past 14 days, please do not attend the concert and contact the box office. For your well-being, the Mary Winspear Centre will provide hand sanitizers and facemasks.
In accordance with the current BC Provincial Health Orders seats will be assigned to audience members by MWC staff until further notice.
*Ticket holders who have purchased specific seats: these seats are null and void; MWC staff will be assigning seats to all patrons in order to comply with BC Provincial Health Orders.
1. Arrive with your entire cohort and enter through the theatre lobby doors, located past the main entrance to check-in.
2. Paperless event.
3. Masks are mandatory in all public spaces, this includes while seated in a designated seat.
4. The Charlie White Theatre has recently been examined by our trusted HVAC Technician. Fresh air-flow is ensured at all times.
5. The Theatre is used in such a way that the whole space is utilized for seating patrons.
6. No intermission: Pre-ordered drinks and Artist merchandise will be served to you at your seats by a MWC volunteer. Maximum of 2 alcoholic drinks per patron at a time.
7. You may also order drinks during the concert –again brought to you by a MWC volunteer. Please text 250-880-7826 and include the cohort number we provide to you on a slip of paper at check-in. Maximum of 2 alcoholic drinks per patron at a time.
8. Cleaning/disinfecting of entire space before and after each performance.
9. No outside food and beverage permitted. You may bring a water bottle.
10. Mary Winspear Centre representative(s) present in house to monitor/ensure this plan is being followed.