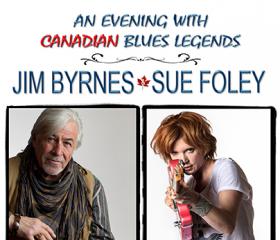 Three-time Juno winner and BC Entertainment Hall of Famer JIM BYRNES was born in blues country.  Forty-five years on the blues highway with the likes of Muddy Waters, John Lee Hooker, Taj Mahal and Robert Cray landed this quintessential blues man in Vancouver.  Now a west coast legend, Byrnes has amassed a stellar collection of true blue hits including "12 Questions", "Walk on Boy", "Still Stuck on You", "Jailbird Love Song", "Me and Piney Brown", "Four Until Late", "Love is Just a Gamble", "Of Whom Shall I be Afraid", "That River", "Stardust", "Talk in Circles" and "Just a Pilgrim", Winner of Canadian Spotlight Awards' best music video of the year (2006).  At age sixty-nine, JIM BYRNES has recorded a career milestone, which, given his history with numerous Juno Awards and Maple Blues Awards, among many other accolades, is saying a lot.  "Long Hot Summer Days" is a masterwork from one of Canada's best-loved musical icons.  Records like this don't come around every day. Listen and be taken away.
His evocative themes and smoky vocals reveal a truth resulting from a lifetime of experience and struggle.  The honours he has received along the way bear testimony to Jim Byrnes' triumph over adversity.  The albums "That River" won the Juno for Best Blues/Gospel Album (1996), "House of Refuge", Juno for Blues Album of the Year (2007) and "Everywhere West", Juno for Blues Album of the Year (2011).  Jim further proved he has the pipes winning the Canadian Folk Music Awards Contemporary Singer of the Year (2006, 2009).  In 1995 he was inducted to the BC Entertainment Hall of Fame.
 
SUE FOLEY is a Canadian-born multi-award-winning musician and one of the finest blues and roots artists working today.  Armed with a soulful voice and a guitar style shaped by multiple genres, she is a triple-threat as a lead guitarist, songwriter and vocalist.  It all comes together on such tracks as "81", "Come to Me", "Every Road I Take", "Lightning Boogie", "The Lucky Ones", "Two Trains", "Time to Travel", "Mediterranean Breakfast", "If I Have Forsaken You" and "The Ice Queen".
Sue turned pro at just 16, beginning her recording career in Austin, TX with Antone's, the esteemed blues label and historic nightclub that helped launch the career of Stevie Ray Vaughan and many others.  She released her first album "Young Girl Blues" (1992) at only 21.  Foley has a long history of defying convention, and being a positive role model for aspiring, young female musicians.   
Along the road to stardom SUE FOLEY has earned a wealth of accolades.  She won the prestigious Juno Award for Best Blues Album (2001).  She also holds the record for the most Maple Blues Awards in Canada and has earned three Trophees de Blues de France. She has also garnered several nominations at the International Blues Music Awards, in Memphis, from The Blues Foundation.
Her latest album "The Ice Queen" (Mar 2, 2018) was recorded in San Marcos, Texas.  The album represents Foley's full circle journey, returning to her career roots in Austin and reconnecting with many old friends.  Joining Sue as special guests is a trio of legendary Texas guitarslingers, Jimmie Vaughan, Z.Z.Top's Billy F Gibbons and Charlie Sexton, as well as a host of other Lone Star State all-stars.