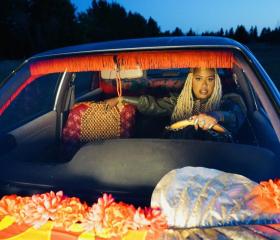 From September 13-October 23 proof of first vaccine required for anyone over the age of 12, along with government issued ID for those 19+.
Seaside Sessions Presents 
WITCH PROPHET
Thursday, October 14, 7:30 PM
Witch Prophet is a queer, Ethiopian/Eritrean, singer-songwriter, and the Co-CEO of Heart Lake Records. She provides her fans with a soundscape of vocal layers, loops, raps, and harmonies on a bed of hip-hop, jazz, and soul-inspired beats. Think Erykah Badu meets Lauryn Hill meets Portishead. She finds depth and connection in creating music as a portal for self-growth and discovery, as she navigates and better understands her cultural and queer identity.
Witch Prophet has shared the stage with and opened for acts like THEESatisfaction, Shabazz Palaces, Lido Pimienta, A Tribe Called Red, Climbing Poetree, SAMMUS, Sean Leon, JPEGMAFIA, The Cliks, Rae Spoon, Zaki Ibrahim, Kae Sun, and LAL, to name a few.
Her vocals have appeared on Shad's "Flying Colours" LP (2013), 2009's Polaris Prize winner Fucked Up's LP "Dose your Dreams" (2018), as well as DillanPonders newest album "Because We're Alive" (2020). She has toured Europe independently twice; playing shows in Paris, Amsterdam, London, and Berlin, as well as performed at North American and European music festivals like: Black Women Rock, New Skool Rules, Soul Of Brooklyn, Allied Media Conference, Montreal Jazz Festival, Sappy Fest, Electric Eclectic, Summerworks, Ottawa Capital Pride, Pride Toronto, Pop Montreal, Halifax Pop Explosion and so many more!
In March of 2020, Witch Prophet released her Ontario Arts Council funded sophomore LP "D.N.A Activation". An ode to her Ethiopian and Eritrean ancestral roots, fusing Jazz, Hip-Hop, Soul and RnB with songs sung in English, Amharic, and Tigrinya. Co-produced by herself and her partner SUN SUN, praised by press and music lovers alike, DNA Activation was shortlisted for the 2020 Polaris Music Prize. She has since been signed to Ki An Projects, a new label in the UK for the release of a deluxe edition of DNA Activation. The video for her song Tesfay directed by Leah Vlemmiks was nominated for the 2021 Prism Prize and was an official selection at the 2021 SXSW Music Video awards. She was the only Canadian nominee and was alongside artists like Run The Jewels. A new video for Makda was released May 28th which debuted on FADER.
Filming Notice: please be advised that your presence as a member of the audience during the filming/taping constitutes your consent to the possibility of your voice and likeness being used, without compensation, in the unlimited distribution, advertising, promotion, exhibition and exploitation of the program in any and all media by any method or device known or hereafter devised, and you release The Mary Winspear Centre from any liability in connection with such usage.
________________________
Please note: all exchanges, gifting, or reselling of tickets must be done through the Mary Winspear Centre box office in order for us to conduct pre-screening, seat assignment, and contact tracing protocols.
If you are feeling unwell, have any COVID-19 symptoms, have been asked to isolate, or have been around someone who has been asked to isolate, tested positive for COVID-19 in the past 14 days, or been in contact with someone who has tested positive for COVID-19 in the past 14 days, please do not attend the concert and contact the box office. For your well-being, the Mary Winspear Centre will provide hand sanitizers and facemasks.
In accordance with the current BC Provincial Health Orders seats will be assigned to audience members by MWC staff until further notice.
*Ticket holders who have purchased specific seats: these seats are null and void; MWC staff will be assigning seats to all patrons in order to comply with BC Provincial Health Orders.
1. Arrive with your entire cohort and enter through the theatre lobby doors, located past the main entrance to check-in.
2. Paperless event.
3. Masks are mandatory in all public spaces, this includes while seated in a designated seat.
4. The Charlie White Theatre has recently been examined by our trusted HVAC Technician. Fresh air-flow is ensured at all times.
5. The Theatre is used in such a way that the whole space is utilized for seating patrons.
6. No intermission: Pre-ordered drinks and Artist merchandise will be served to you at your seats by a MWC volunteer. Maximum of 2 alcoholic drinks per patron at a time.
7. You may also order drinks during the concert –again brought to you by a MWC volunteer. Please text 250-880-7826 and include the cohort number we provide to you on a slip of paper at check-in. Maximum of 2 alcoholic drinks per patron at a time.
8. Cleaning/disinfecting of entire space before and after each performance.
9. No outside food and beverage permitted. You may bring a water bottle.
10. Mary Winspear Centre representative(s) present in house to monitor/ensure this plan is being followed.