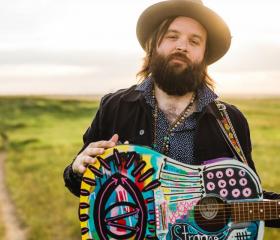 Thu, Sep 17, 7:30 pm
to
Sun, Sep 20, 9:30 pm
LEEROY STAGGER
EXCLUSIVE CONCERT SERIES
4 NIGHTS • 50 PEOPLE
SEPTEMBER  17-20 - 7:30 PM
Sponsored by: National Bank Financial • Yzenbrandt McClinton Wealth Management Group 
It's said the cells in your body replace themselves every decade or so. After 11 albums, two EPs and 17 years as a singer-songwriter, Leeroy Stagger has been wondering if maybe the soul works the same way. Ten years sober, with two kids, a home in Lethbridge and a world class recording studio to go with it, he's far removed from the hard-living twenty-something who started on this musical path. As far as Stagger can see, they aren't even the same person.
Strange Path is the name of Stagger's newest album and book, a name that applies as much to his unexpected route from the BC punk scene to southern-Alberta singer songwriter as it does to the album's own evolution. Following from 2017's Love Versus, itself a creative re-emergence after a years-long fog of anxiety and depression, Strange Path is the end result of a triple-album's worth of scrapped demos, record label rejections, and a spirit-reviving retreat inwards. It's also Stagger's most ambitious and philosophical creation yet, a veritable self-help book pulled from a lifetime of struggling towards the light and brimming with the hard-won joy at the heart of his recent renaissance.
__________________________________________________________________________________________
COVID-19 PLAN
Your safety is our priority. We will be taking all measures to provide a safe, sanitized and comfortable concert setting, following current regulations provided by the provincial government and Worksafe BC. Each evening we will only be selling a maximum of 50 tickets, you and your guests will be seated with appropriate social distancing in between you and the next concert goer, and additional entrances and exits will be used to load in and out of the theatre. If you are feeling unwell or have symptoms please do not attend the concert and contact the box office. The Centre will be providing hand sanitizer and facemasks for those who feel more comfortable wearing them. Masks are not mandatory to attend.
-Staff wearing PPE
-Masks available to attendees
-Specially decorated space for an enhanced concert experience
-Lowered stage – more intimate concert experience
-Creating max ventilation in our largest space (8,000ft hall – doors open)
-Contactless merch – delivered directly to your cohort
-Contactless concession – delivered directly to your cohort
-NO paper tickets, check-in on arrival
-Cleaning/disinfecting entire space before, during, and after
-All patrons will receive a phone call from Mary Winspear Centre staff before event for personalized service
-Come with your own cohort while maintaining social distancing from others
Maximum group size is 6.