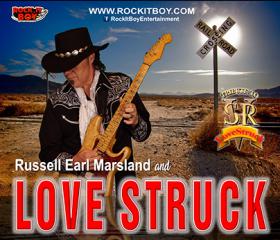 STEVIE RAY VAUGHAN was one of the most influential guitarists of the 1980s blues revival.  He was a rocking powerhouse who gave the blues a burst of momentum.  With such songs as "Pride and Joy", "The House is Rockin'", "Crossfire", "Cold Shot", "Little Wing", "Life By the Drop", "Tightrope", "Voodoo Child", "Look at Little Sister" and the unforgettable "Love Struck Baby", his influence is still felt long after his tragic death.
Vocalist and guitar virtuoso RUSSELL EARL MARSLAND has been a powerful presence in the Vancouver music scene for more than 30 years.  In 1978 he co-founded Vancouver's legendary R&B All Stars.  The band played its first gig opening for Long John Baldry.  Russell has performed with hundreds of artists, sharing the stage with The Allman Brothers, BB King, Chuck Berry, James Brown, Ray Charles, and Steppenwolf, to name but a few.
Russell headlined four consecutive years at the Vancouver International Jazz Festival, at the Pender Harbour Blues Festival, and was the opening performer at the inaugural Burnaby Blues and Roots Festival.  His critically acclaimed CD "Dig Deep" achieved significant airplay on WWOZ Heritage Blues Radio in New Orleans and caught the attention of Alligator Records in Chicago in 2008.
Elaine Morrison, Senior Editor of The Leader Newspaper says, "Marsland's voice will knock you out. It's deep, bluesy and full of soul. He sings from the heart with fire and conviction.  If you've never experienced the bounty of Russell Marsland, one of
Canada's top guitarist / singers then you've yet to tap into one of life's unique resources.  When it comes to guitar playing, you'll marvel at his command of the instrument."        
Russell and Stevie both had much love and Respect for Jimi Hendrix, BB King, Albert Collins, Albert King along with Wes Montgomery, Dick Dale and many other guitar greats!  LOVESTRUCK celebrates the music of the Legendary Stevie Ray Vaughan, tapping into the fire and passion of this incredible artist who left us way to soon.  RUSSELL EARL MARSLAND & LOVESTRUCK pays respect to the life of SRV through his music.