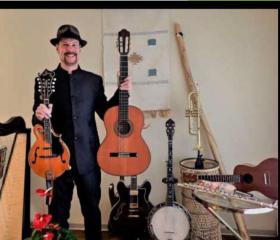 Larry McQuarrie hails from Winnipeg, M.B.  He began guitar studies at age 10 and formed his first band "The Travellin' Sound" at age 11.  Larry was the singer/guitarist in the band and wrote all the songs. When 12, commenced classical guitar studies with Ethan Taylor.  Accomplished on guitar by age 14, he taught private guitar lessons at home.  Competed in 'The Manitoba Music Competition Festival' and won first place in the classical guitar division.  Also took 1st place in the following year.
Larry debuted his musical skills on CBC radio at 16, winning a ½ hour spot on "Music Manitoba" where he played 'Classical Gas', some pop songs and an original piece entitled "Faded Memories".  The CBC orchestra backed him up on the show.  After the show was taped, Larry studied jazz with legendary jazz guitarist Lenny Breau, who resided in Winnipeg at the time.  Mr. McQuarrie also won a music scholarship to study classical guitar for a month, at the 'Shawnigan Lake School of The Arts', in BC.  His two renowned instructors were Ako Ito and Henri Dorigny, professors of guitar from France.
At 17, Larry played his debut concert, sponsored by 'Yamaha Music of Canada'.  When 19, he became the resident classical guitarist in Churchill's dining room at Delta's Marlborough Inn, a Luxury Winnipeg Hotel.  He played here for 2 yrs.  During this time, showcased many Jazz and Classical Concerts at the Winnipeg Art Gallery and other venues.  In ensuing years, played in many bands in a variety of genres, including Country, Jazz, Irish, Folk, Elvis impersonators, John Denver and Patsy Cline Tribute Acts and many more.  Also performed on CBC radio and TV shows and on 'Breakfast Television' (Toronto), 'People's Church' (Toronto), 'It's a New Day' (Winnipeg) and other radio and TV programs.
In 1985, Larry moved to Kitchener, ON and played at many lounges, dining rooms, churches, weddings, private functions and studio work.  He taught guitar at Emmanuel Bible College from 1991-1997.  Also taught guitar at Conestoga College and group guitar lessons, in a variety of community centres.   Upon moving to Victoria, BC in 2014, Larry has become a sought-after performer in retirement homes, coffee shops and private functions.
Mr. McQuarrie is a versatile vocalist, and proficient multi-instrumentalist playing: piano, banjo, mandolin, ukulele, flute, trumpet, guitar and recently Celtic Harp.  In addition, he is a composer, music festival adjudicator and award-winning published poet, with poems in anthologies in Canada, the U.S. and U.K.