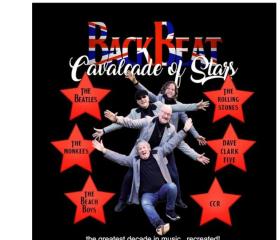 Backbeat Presents
The Cavalcade of Stars – A complete 60's music experience!
Friday, February 9, 2024 - 7:30pm
Backbeat Entertainment, in conjunction with RM Productions, is proud to present, 60's Cavalcade of Stars – The greatest decade in music recreated!, a live multi-media entertainment celebration, featuring the music of 6 of the world's greatest musical groups, lovingly performed by BackBeat, Canada's most authentic musical tribute to the 60's. This magical evening of entertainment features top 10 pop hits from The Beatles, The Beach Boys, The Rolling Stones, The Monkees, The Dave Clark Five and Creedence Clearwater Revival. Join us and be transported back in time to the greatest decade in pop music history on a musical journey of sight and sound that is sure to keep you smiling and your toes tapping, all night long. You won't want to miss this once in a lifetime event... Backbeat presents, The 60's Cavalcade of Stars!
BACKBEAT is four mates from Victoria, BC.  Four pretty fab guys who live and breathe the most exciting decade in music history.  The boys have been thrilling audiences since 1988 with their loving and most authentic musical tribute to the 60's.
Students of music, casual listeners and fans of all ages know all these songs.  In fact, many of them have been singing them since they were school kids, when things were so much simpler and memories were being made.
BACKBEAT honors the music, honors the memories with an uncanny sense and sensibility for each and every song on the repertoire which by the way is substantial to say the least.  From the Beatles to the Zombies and everything in between, these are the songs you remember, the way they were played, absolutely live.  For BACKBEAT, it's all about paying homage to these great artists and this incredible catalogue of music.
The guys are all experts at their craft, honing their chops on dusty stages and in smoky cabarets all across the country for over 4 decades. In fact, collectively and singularly each of these artists has graced the stage with some of the worlds foremost artists including Sheena Easton, Celine Dion, Loverboy, Fee Waybill, Nigel Olsson, Honeymoon Suite, Steven Tyler and David Foster...yes, THAT David Foster.  BACKBEAT has also been a featured opening act for Trooper and 54-40, two of Canada's most successful artists.
BACKBEAT, authentic... genuine and honest just like the music they play.  It's been quite the journey hasn't it?  From a small noisy dank cavern in Liverpool to 50,000 screaming fans at Shea Stadium and beyond, BACKBEAT let's you re-live every moment, every memory and the most amazing decade in music history.  A splendid time is guaranteed for all!