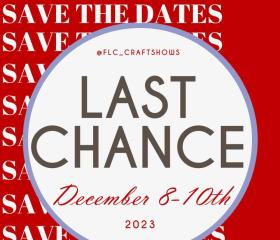 Fri, Dec 8, 2:00 pm
to
Sun, Dec 10, 5:00 pm
Presenting the 34th annual First Chance
Christmas Craft Show
Celebrating our 34th year, First Chance invites you to join us and capture the magic of Christmas and sales of fine crafts. More than 90 curated, well-known and renowned exhibitors will be at the lovely Mary Winspear Centre offering the latest in fashion and home décor trends, unique presents and holiday wares at First Chance.  What better way to spend the day with friends and family where you can soak up the seasonal atmosphere, find that perfect something for everyone on your shopping list, and even, perhaps yourself! Be the lucky one to receive one of two $200 Vendor Shopping Spree Give-A-Ways (one each on Saturday and Sunday) or one of the many hourly give-a-ways.
This year, peruse artisans' booths showcasing some of the finest and unique handcrafted works from Vancouver Island & the Gulf Islands and meet the artisans who are inspired by the surrounding beauty of the West Coast to create one of-a-kind pieces. When you step through our doors, you will find fashionable jewelry, luxurious body and spa products, ceramics, fiber art, glasswork, candles, wearable art, leather work, sculpture, metal crafts and woodwork. Local wines, spirits and all sorts of delectable food items will also be on display at this holiday event. Whether you are looking for a gift for someone special, stocking-stuffers, or wanting to inspire holiday spirit, we offer it all under one roof.
The First Chance Christmas Craft Show is an annual event of distinction, bringing communities together. The show provides customers with a unique opportunity to meet and purchase directly from the artists, artisans, makers and designers for a much more intimate transaction. So, get into the spirit of the season, put on your shopping shoes and we will see you there!
LAST CHANCE CHRISTMAS CRAFT SHOW
Friday, December 8th | 2:00 p.m. – 8:00 p.m.
Saturday, December 9th | 10:00 a.m. - 5:00 p.m.
Sunday, December 10th | 10:00 a.m. - 4:00 p.m.
MARY WINSPEAR CENTRE | 2243 Beacon Avenue, Sidney
Admission $5 | Children Under 12 Free (accompanied by an adult)
ATM's Onsite | Wheelchair Accessible | Free Parking