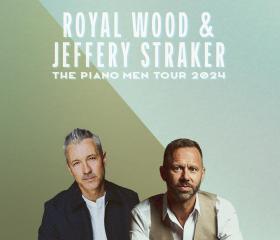 Tickets on sale Friday, October 20 at 10am. 
Mary Winspear Centre Presents 
Royal Wood & Jeffery Straker 
The Piano Men Tour 2024
Friday, March 15 - 7:30PM
Royal Wood
Singer, songwriter, multi-instrumentalist and producer Royal Wood has established himself as a true musical talent. Since being proclaimed "Songwriter of the Year" by iTunes (2010), Wood has continued to evolve and hone his musical craft while maintaining a unique identity. With his eighth full-length studio album, 2022's What Tomorrow Brings, Wood reaches new emotional depths and delivers his most powerful collection of music to date. "Although it was finished before the pandemic even began, the time I had during those unpredictable years allowed me to dig deep and fine-tune the album in a way I've never been able to before. I know, without a doubt, this is the best work of my career."
Royal Wood has received multiple JUNO nominations, 5 Canadian Folk Music Award nominations, and a #1 added song at Hot AC. Having seen high-profile features on programs such as Grey's Anatomy and Private Practice, his catalogue has amassed over 15 million streams worldwide. Most recently, Danish manufacturer VELUX utilized the 2007 single "A Good Enough Day" in a promotional campaign, generating a surge of newfound fans across Europe. Capturing the same sonic and emotional depth of these recordings, Wood translates his songs into astounding live performances. This live prowess has led to performances in world-class venues and support-billing for globally-celebrated artists such as Bonnie Raitt and David Gray.
Following a headline performance at Toronto's iconic Massey Hall, Royal Wood released his latest album, What Tomorrow Brings, in November 2022. Crafted alongside world-renowned producers Linda Perry (Adele, Alicia Keys, Christina Aguilera) and Jamie Scott (Ed Sheeran, Justin Bieber), the album draws from deeply personal points in Wood's life, effectively capturing the emotion of these moments. "During the writing of this album, I lost a parent, fell in love, got married and became a father. These experiences definitely allowed me to write from a place of pure vulnerability and create the most carefully crafted and inspired lyrics of my career."
What Tomorrow Brings has received critical praise and support across both Radio and Digital Streaming Platforms. Respective singles have featured on Sirius XM's North Americana and Stingray Radio's Adult Alternative, Pop Adult, and Canadian Indie. Digitally, singles have seen placements on various editorial playlists such as Spotify's New Music Friday Canada, Every Day Favourites, Contemporary Blend, indie pop & chill, Folk & Friends; Apple Music's New In Singer/Songwriter, Breaking Singer-Songwriter, and New in Singer-Songwriter; and Amazon Music's Brand New Music, Fresh Folk & Acoustic, and Finely Tuned. Alongside the release of What Tomorrow Brings, Wood also granted fans a behind-the-scenes look into the album with a Mini-documentary that premiered via Exclaim!. Now, along with an opening slot on Bonnie Raitt's upcoming tour, Royal Wood continues to expand on the success of What Tomorrow Brings, approaching 200,000 Monthly Listeners on Spotify and garnering fans from around the world.
Jeffery Straker
Singer-songwriter pianist Jeffery Straker grew up taking piano lessons in small-town Saskatchewan and has gone on to perform over 100 shows per year across Canada, Europe and Latin America.  The rootsy-storytelling of his songs has the power to transport a listener - out onto a lake in Canada's North or to the main street of a prairie town.  A clever lyricist with an energetic approach to the piano, his song writing has drawn critical comparisons to the likes of Harry Chapin, Kris Kristofferson & Billy Joel while maintaining a style distinctly his own.  He's recorded his roots/folk music for CBC radio's 'Canada Live', has seen his songs used in film, TV and theatrical productions and in 2019 won a Western Canadian Music Award.  Recently he was awarded "Roots/Folk Artist of the Year" at both the 2020 & 2021 Saskatchewan Music Awards and saw the Saskatchewan Country Music Awards name him "Keyboard Player of the Year" 3 years running. 
A musical vagabond, he's toured internationally as far as The Netherlands, Mexico and Nunavut with tour stops ranging from intimate house concerts to theatre shows and festivals.  Never one to let genre constrain him he's also taken the stage in sold-out concerts performing his songs with symphony orchestras.  International highlights include winning the prestigious Vina del Mar (Chile) song competition, representing Canada while performing to a festival crowd of 20,000 people and a TV audience of 100,000,000 viewers across the Spanish-speaking world. He also recently performed across the UK (Nov 2022) including a stop at Canada's High Commission in London.
Jeffery's 2017 12-song recording, "Dirt Road Confessional" dove deep into his personal storytelling style and debuted at #5 on the iTunes Canada singer-songwriter charts. It played on CBC Radio and college/community radio across the country with listeners and critics taking note.  The Chicago Free Press wrote: "Rufus Wainwright, as well as k.d. lang are among the Canadians making essential and beautiful music. Add the name Jeffery Straker to that list". 
Straker's 2021 full-length album "Just Before Sunrise" was produced by Russell Broom (Calgary AB).  The recording strikes a reflective and optimistic tone with many of the songs written in the wake of the sudden & unexpected passing of Jeffery's mom.  Two co-writes with Royal Wood feature on the recording.  The launch was celebrated with a 6-show national virtual tour and a 55 date Covid-friendly "Pandemic-Piano-Backyard-Tour" crossing the country in summer 2021.  The album was voted #2 in the Saskatchewan Music Awards.
"Direct, honest and sure-handed, there's a magic to Straker's folk-based piano styling and powerful storytelling…a brand of contagion well worth catching"  (The Walleye/Just Before Sunrise)
Jeffery has just emerged from the studio with his latest recording which will release in early 2024 (date TBC).  Working with roots/americana producer Steve Dawson (Nashville) the album delivers a roots/country flavour.
A classically trained pianist, Straker swears he was born under the piano on the family grain farm.  He was raised by a church-organist mother and auctioneer father which might explain his natural ability to share songs with audiences. He was a student of the Royal Conservatory of Music and received his licentiate diploma in piano performance from Trinity College, London when he was only 19.  Straker has showcased at major events including Canadian Music Week, NXNE, Breakout West (Western Canada), & JunoFest. He was an official showcase artist at Folk Alliance International 2022 in Kansas City.  www.jeffstraker.com