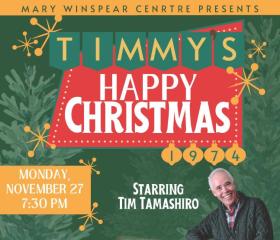 Mary Winspear Centre Presents 
Timmy's Happy Christmas 1974
Starring Tim Tamashiro 
Monday, November 27 - 7:30PM
Charlie White Theatre 
If you were around in the 1970s, then this show is for you. Tim Tamashiro presents a nostalgic journey down memory lane that will take you back to your childhood Christmases. With stories and music from that era, Timmy's Happy Christmas, 1974 is sure to get you into the holiday spirit. You'll relive memories from your childhood that still ring in your heart! The holidays are all about fun and happiness, so come experience them through the eyes of an 8 year old boy. It will be an evening of memories and laughter that you won't want to miss.
* Stories and holiday songs
* Memories from The Sears Christmas Wishbook
* Classic TV commercials
* Holiday TV specials
* Toys, food and nostalgia
It's a show that shares REAL memories… like how you might have snuck a peek at the bras in the wishbook. This show has girls' toys, boys' toys, games, and inflatable boxing gloves that you could pound on your sibling with. This show has REAL classic TV commercials for Super Slider Snow Skates, Lite Bright, and Ktel Record Selector. This show has memories, stories, and music that will make you feel like you're a kid again.
Hi, I'm Tim Tamashiro. From my years as radio host on CBC, and my decades long career as a singer, I've learned that the combined magic of stories with songs is a beautiful way to share memories with audiences. That's why I created Timmy's Happy Christmas 1974. It's a holiday show aimed right at the heart of millions of Gen X'ers. They can bring their grandkids too!
The show is about an 8 year old boy named Timmy and the extraordinary memories he has from that Christmas of 1974. He arrives home one day after school to find the brand new Sears Christmas Wishbook laying facedown on his doorstep. The tsunami of thrills that come his way leading up to Christmas are the same memories that millions of kids from those days have too.
After debuting this show at The Jack Singer Concert Hall in 2021, I'm thrilled to now bring the show to the rest of Canada. I'll be joined by my extraordinary musician friends and a collection of songs that range from White Christmas to You're a Mean One Mr. Grinch. We'll have Charlie Brown moments, drinking Tang moments and I'll even sing that Alvin and the Chipmunks tune with a helium balloon. Plus we'll bring along a slideshow that makes the crowd laugh and gasp out loud. The audience laughs harder at the slides than they do at my jokes!
So if you can literally smell the wood-burning set as it accidentally falls on the living room carpet… I'm sure you can imagine what fun we'll have with Timmy's Happy Christmas 1974.